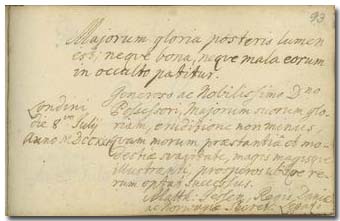 Majorum gloria posteris lumen est; neque bona, neque mala eorum in occulto patitur. *
Generoso ac Nobilissimo D[omi]no Possessori, Majorum suorum gloriam, eruditione non minus, quam morum praestantiâ et modestiae suavitate, magis magisque illustranti, prosperos ubique rerum optat successus.
Matth[ias] Jessen, Regis Daniae ac Norwagiae Secret[us] Legat[us]
Londini die 8vo. Julij Anno MDCCXXI
* The source of the quotation is Sallustius, Bellum Iugurthinum 85.23.